Dendermonde, Belgium - September 13, 2023

Luceda Photonics Design Platform 3.10 introduces IPKISS Canvas, your new graphical co-pilot for PIC design! 

Using IPKISS Canvas, you can now analyze your circuits in a schematic environment, enabling you to focus on crucial aspects such as connectivity and functional verification. You can also use Canvas to generate fresh ideas on an abstract level before diving into layout implementation, or to enhance communication around your design process. The choice is yours. 
That's not all! We have introduced ConnectElectrical, a new dedicated electrical connector to easily route your electro-optical circuits and devices. We have also added support for multi-layer electrical netlist extraction so that you can easily verify the correct implementation of your complex layouts.  
Thanks to significant performance improvements, layout visualization is quicker than ever and you can now iterate your designs faster. Go try it out!
Meet IPKISS Canvas
Picture this: a canvas where your new and existing designs come to life, and that reveals critical errors that go unnoticed during layout inspection. Before taping out, export your circuit to Canvas to focus on crucial aspects such as connectivity and functional verification of the correct parameters. Furthermore, you can annotate the designs you've built with essential information, such as waveguide lengths, losses, and more. 
But it doesn't stop here: IPKISS Canvas helps transform your PIC design ideas into a layout. With IPKISS Canvas, you can kickstart your design flow by capturing schematics: select one of our supported PDKs, explore the components at your disposal, drag-and-drop them onto the canvas, and start creating your circuit. Once your circuit is complete in IPKISS Canvas, you can seamlessly transition back to code to finalize the layout, inspect the circuit simulations and prepare your PIC design for tape-out. 
IPKISS Canvas enhances communication throughout your design process. You can share the complex design details with fellow designers, team leads, system experts, and technology specialists using the schematic Canvas environment. From PDK foundry components to your custom-designed cells, circuit parameters, annotations, and connectivity checks - visualizing your photonic integrated circuits becomes intuitive. 
If this is the start of your journey into code-based PIC design, IPKISS Canvas serves as your design co-pilot accelerating the journey into creating your first code-based PIC. It empowers anyone to drag and drop PDK and library components and give shape to their ideas in a graphical environment, to then translate them seamlessly into code. Even if you are a coding expert, you can leverage IPKISS Canvas for interactive visualization of your progress and to discover useful device information, such as port names and parameters.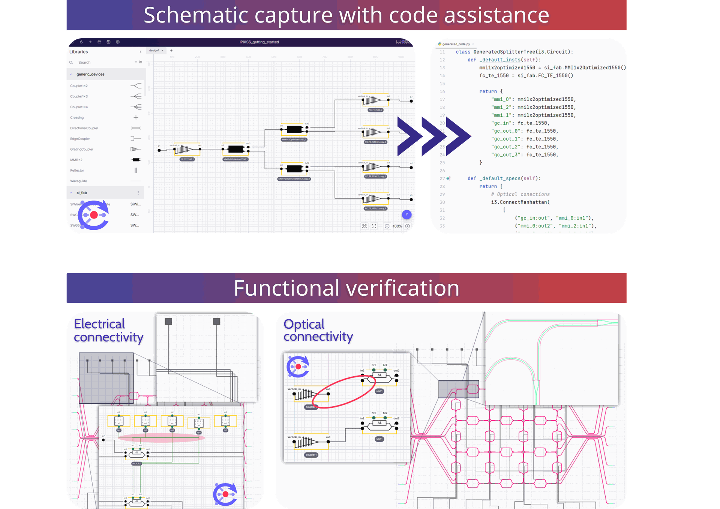 What are you waiting for? Head over to your Luceda Customer Portal and download the latest Luceda 3.10! IPKISS Canvas is available to all, included in your existing IPKISS subscription.  
We are eager to hear your thoughts! Talk with us directly during one of our onboarding trainings, send e-mails to our support team, or share your feedback on your favorite social media platform. We are looking forward to your input to make IPKISS always better!
"
IPKISS Canvas helped me simplify the functional verification of component connections. Its back-annotation feature enables flexible extraction of crucial layout parameters, so that I can quickly assess the layout accuracy and ensure alignment with design intentions. This significantly reduces design errors and enhances design iteration efficiency.
"


Liam Han
Senior Designer at
Sicoya
"Prior to starting a layout, customers typically provide Spark Photonics with PowerPoint or PDF schematics, which are inefficient for capturing PIC schematics or interfacing with foundry PDKs, and often need to be reworked due to erroneous capture. By using IPKISS Canvas, a dedicated PIC schematic capture and verification tool, our customers can ensure that their schematics are correct and true to their targeted PDK, thereby streamlining the design process and facilitating collaborative functionality checks as the layout advances."
Kevin McComber
CEO at
Spark Photonics
"IPKISS Canvas has given a great push to the PIC design process in the EU SiPho-G project by providing an integrated platform for seamless collaboration between teams. We were able to share schematic designs effortlessly with the Luceda team, enabling them to translate them into manufacturable layouts using IPKISS code. The accurate design representation, verification capabilities and smooth transition to layout implementation make IPKISS Canvas an invaluable tool for efficient and effective photonic integrated circuit design."

Apostolos Tsakyridis
Researcher at
AUTH


"The transition between different steps of the design flow
is smooth. The process of importing the PDK into IPKISS Canvas proves to be convenient, further enhanced by the ability to automatically launch Canvas from IPKISS Python code. These newly integrated features have facilitated collaboration with colleagues who are less proficient in coding. By leveraging Canvas, colleagues can generate schematics effortlessly, allowing us to subsequently fine-tune layouts using code."

Siyao Chang
PDK Manager at
NOEIC



"I believe Canvas has the potential to change the landscape in PIC mask layout and design. The concept of creating a schematic on Canvas which can be translated directly into a corresponding mask layout design is brilliant. It has already saved me a significant amount of time and effort and I'm grateful to Luceda for developing such an awesome tool!"



 Bassem Tossoun
Senior Research Scientist at
HPE

Previous
Next